3Reich a set of drivers proficiency badge (Kraftfahr-Bewährungsabzeichen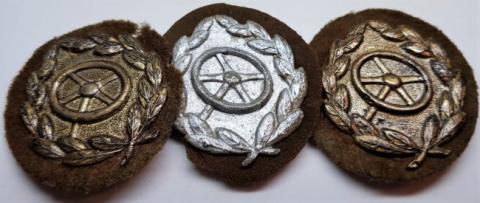 A SET OF DRIVERS PROFICIENCY BADGES (Kraftfahr-Bewährungsabzeichen).
On October 23rd 1942 Adolf Hitler introduced a series of three Motor Vehicle Drivers Proficiency Badges in the grades of bronze, silver and gold with qualifications for bestowal of the badges being retroactive to December 1st 1940. The badges were awarded to both Wehrmacht, (Armed Forces), personnel and civilian personnel, including Foreign volunteers and auxiliary personnel, under Wehrmacht command, who had fulfilled the required criteria. The criteria for bestowal of one of the badges varied with exceptional driving ability and vehicle maintenance being the main considerations and also included a prescribed amount of days under difficult weather or combat conditions. When awarded the badge was accompanied by an award certificate and was to be worn on the lower left sleeve of the field blouse and service tunic. The badges were mounted on cloth bases which were to match the uniform it was to be worn on. This example in bronze, is the lowest of the three grades. Interestingly bestowal of the badges was not extended to military personnel of nations allied with the Germans.
Stamped magnetic alloy award. Badges is in the form of an embossed, circular laurel leaf wreath encompassing an embossed steering wheel on a pebble background field. Complete with prongs and original wool.
Found on the battlefield. As the pictures show.