NSDAP membership badge RZM M1/25.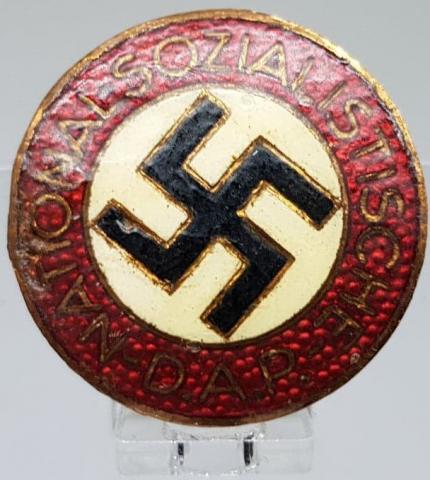 NSDAP membership badge "M1/25"(Parteiabzeichen).
Standard issue membership badge awarded to all personnel on acceptance as an official party member. Roughly 23mm diameter, die struck alloy badge NSDAP membership badge with multi-colored enamel work. Badge features a translucent red, circular outer border with embossed silvered script, "National-Sozialistiche-D.A.P.", encompassing a white enamel field with canted black enamel swastika. Pebbled field is visible below the translucent red enameled outer border. Reverse is well marked with embossed RZM logo with dual circular borders and manufacturers code, "M1/25" indicating manufacture by Rudolf Reiling, Pforzheim.
Recommended variant for NSDAP membership badge collections.
Found on the battlefield. Satisfactory condition with traces of wear. Broken pins. As the pictures show.