WW 2 - NSDAP - Big unfoldable propaganda poster from "Die Parole der Woche" with anti-Semitic american propaganda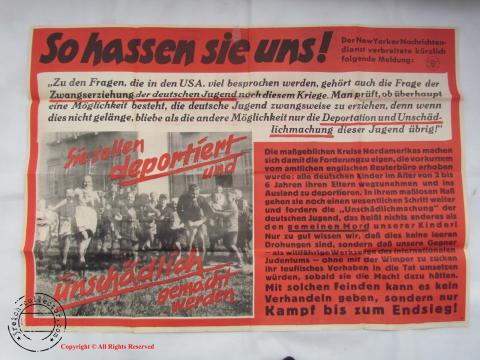 Big unfoldable propaganda poster from "Die Parole der Woche" with anti-Semitic american propaganda
Big unfold able propaganda poster with anti American propaganda. Poster talks about the fact that NY post wrote an article telling that German youngsters between 2 and 6 must be stolen from German parents and deported to countries out of the area of influence of Nazi Germany, so that they can receive a different upbringing. This news are twisted and used as a threaten against Germany, that spreads the hatred against German youth. Kind of cynic interpretation that it's used as propaganda against the USA.
"Die Parole der Woche" was a Nazi propaganda wall newspaper published by the NSDAP, that was well known for its official publications. They published more than 400 numbers between 1936 and 1943.
Big size 120 cm x 83 cm very good condition , you can see also label from "Die Parole der Woche"  on back side , great looking in frame !